Medium Sushi & Sashimi Platter - 40 pcs ($40)
Although the increments of sushi & sashimi platters are medium (40 pcs), large (80 pcs), and extra large (not sure), they are always more generous with their portions than verbally advertised. Meaning, that if it's a medium tray of 40 pcs, they will usually give you about 45-50 pcs. If not, they usually give complimentary hand rolls which is really nice of them. Although it's common practice for them to give out hand rolls or extra sushi, it's not always consistent - so order what you think you can eat opposed to anticipating that you will get complimentary food. Plus for an extra $20 from medium to large, you literally get double the amount.
The restaurant is mainly a take-out restaurant, but if you do dine in, you will get a complimentary bowl of miso soup and unlimited free tea (self-serve). The menu is simplistic, but you do have a view of the sushi bar prior to ordering so you can see what they have (and it's great for accessing the quality of uni they have that day).
The quality of the sushi is average and you won't get as much unique fish varieties (they mainly give out salmon). The restaurant seating is a little cramped, but the extremely jolly service makes up for it. Despite these two points, I still highly recommend individuals looking for a quick bite to check Kim's Ichiban out as it's a great value!
Kim's Ichiban has been my go-to restaurant to come with friends (ever since high school... and the prices haven't changed ever!) and to order trays to bring over to parties.
PS: Kim's Ichiban is cash only.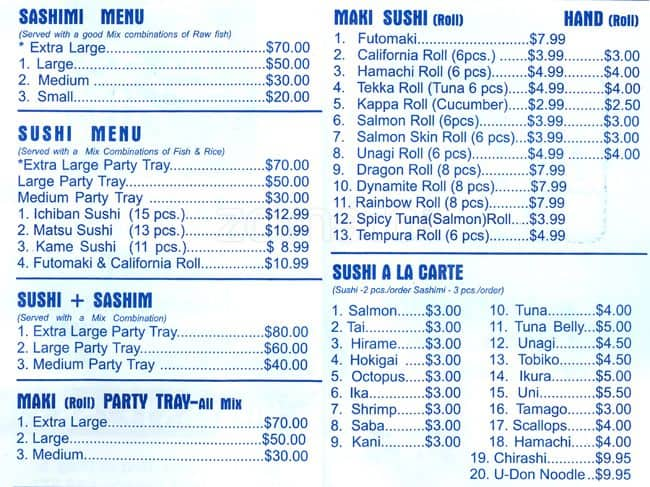 Menu Image Courtesy of Zomato
Kim's Ichiban
550 Highway 7 E Unit 99 Building E
Richmond Hill, ON L4B 3B1
905.881.2583